Get the Skills to Become a Professional Facial Specialist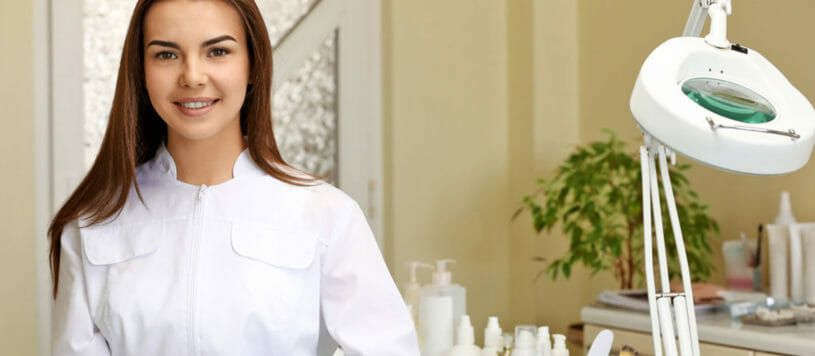 25-Week* Cosmetology Esthetician Training Program in Austin, TX
People find it hard to trust anyone with their face when it comes to facials. That is one reason why all estheticians –– that is, cosmetologists who specialize in facial care –– are required to have a high level of skill as well as practical experience in advanced skin care techniques.
In today's competitive world everyone is conscious about how they look, and due to the growing demand to look good, the need for aestheticians is increasing. An aesthetician is a skin care therapist, spa technician and facial specialist who help in cleaning, beautifying and maintaining the skin and face.
The best way to see if Nuvani Institute is the right fit for you is to come and tour the school. You can tour our facilities and meet with students and instructors. Schedule a tour now or Get more info.
Becoming a Confident Facial Specialist
To become a licensed Facial Specialist, it is mandatory for you to be trained under the guidance of experienced cosmetologists. Nuvani Institute has a team of knowledgeable instructors who teach different steps of doing facials, how to apply facial creams, and the job description and the use of all of the equipment of a spa technician.
Upon completion of the Cosmetology Esthetician program, students must still take and pass the written and practical exam offered in their state before they can receive a license.
Career Opportunities:
Salons
Skin Care Specialist
Day Spas
Salon Owner
Platform Artist
Product Representative
Resort Spas
Program Objective
The objective of the Cosmetology Esthetician program is to provide the student with the skills necessary to perform facials, utilizing the most modern techniques, procedures, and chemicals that are available and to prepare the student for the written and practical examinations given by the Texas Department of Licensing and Regulation subsequent to issuance of a State License to perform facials.
| | | |
| --- | --- | --- |
| Course Number | Course Name | Clock Hours |
| C0101 | Facial Treatment, Cleansing, Masking, & Therapy | 225 |
| C0102 | Anatomy and Physiology | 90 |
| C0103 | Electricity, Machines, & Related Equipment | 75 |
| C0104 | Makeup | 75 |
| C0105 | Orientation, Rules and Law | 50 |
| C0106 | Chemistry | 50 |
| C0107 | Care of Client | 50 |
| C0108 | Sanitation, Safety, and First Aid | 40 |
| C0109 | Management | 35 |
| C0110 | Superfluous Hair Removal | 25 |
| CF111 | Aroma Therapy | 15 |
| CF112 | Nutrition | 10 |
| CF113 | Color Psychology | 10 |
| | | 750 Total Hrs |
Curriculum Information
Nuvani Institute's Cosmetology Esthetician Program has been designed to make sure that you imbibe all the skills, techniques and understanding of chemicals you need for the treatment and care of facial (and other) skin. The instructors at Nuvani are considered to be highly qualified and will guide you appropriately as you gain the expertise you need to practice this branch of cosmetology.
Program Length
Day Program: 25 Weeks*
Graduation Criteria
The student must complete a total of 750 clock hours, must be able to complete within 150% of the published length of the program, and have satisfactory progress in both theory and practical training. The student must maintain an average of at least 70% on academic and practical work.
Additional Information
Uniforms will be provided, at the student's expense
State of Texas Student Cosmetology License Required
Our Locations In Southwest Texas:
Is a Rewarding Career as a Facial Specialist Right For You? Get More Info…
If you're interested in learning more about a career in Esthetics and exploring whether Nuvani Institute is right for you, fill out the form on this page to receive more information.
For immediate questions, call (512) 782-4939
*Program length when completed in normal time