Get the Skills to Become a Professional Nail Technician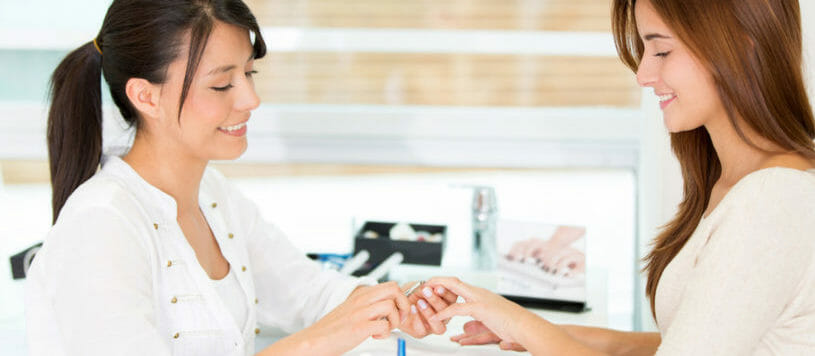 20-Week* Cosmetology Manicure Specialist Training Program in Austin, TX
Nowadays people are very conscious about their nails and are using a number of new techniques to beautify their nails. This has created an immense demand for nail technicians in the fashion industry. Beautiful nails are big business today and you can be a part of this growing industry by joining the Cosmetology Manicure Specialist program at Nuvani Institute.
A licensed nail technician, as the name suggests, is a person who is an expert in manicures, pedicures, nail sculpturing and many other ways of taking care of nails. But to get nail technician classes and certification, you must attend a nail technician school. Through a comprehensive nail technician program you will learn the proper steps in giving a manicure and pedicure and how to use nail care equipment like nail file, nail clippers, scrubber, scissors and nail cutter. You will also be instructed on how to apply nail polish and how to give nails an attractive look by using nail art, tattoos or glitter.
The best way to see if Nuvani Institute is the right fit for you is to come and tour the school. You can tour our facilities and meet with students and instructors. Schedule a tour now or Get more info.
Becoming a Confident Nail Technician
The widespread training module at Nuvani provides students the know-how on using the latest equipment, working with cutting-edge materials and styles, and eventually how to create beautiful and professionally finished nails.
Upon completion of the Cosmetology Manicure Specialist program, students must still take and pass the written and practical exam offered in their state before they can receive a license.
Career Opportunities:
Salons
Manicuring
Salon Owner
Product Representative
Day Spas
Program Objective
The objective of the Cosmetology Manicuring Specialist program is to teach the student the fundamental requirements of manicuring in order for the student to perform all of the services normally associated with manicuring, including nail preparation, implements, materials, safety, and procedures necessary to meet the requirements of the Texas Department of Licensing & Regulation and pass the examination, both written and practical, administered prior to issuing a license to perform manicuring specialist services.
| | | |
| --- | --- | --- |
| Course Number | Course Name | Clock Hours |
| C0101 | Manicuring Orientation | 30 |
| C0102 | Manicuring Procedures | 220 |
| C0103 | Arms and Hands | 10 |
| C0104 | Nerves | 10 |
| C0105 | Nails | 100 |
| C0106 | Chemistry in Manicuring | 150 |
| C0107 | Professional Practices | 80 |
| | | 600 Total Hrs |
Curriculum Information
As the Nuvani Beauty School and Salon course curriculum is always updated to reflect current trends in the industry and we provide the latest equipment and supplies so you are exposed to the most up-to-date technologies. The extensive curriculum covered in the classes at Nuvani is designed to help you to pass the licensing exam.
Program Length
Day Program: 20 Weeks*
Evening Program: 30 Weeks*
Graduation Criteria
The student must complete a total of 600 clock hours, must be able to complete within 150% of the published length of the program, and have satisfactory progress in both academic, as well as, practical training. The student must maintain an average of at least 70% on both academic and clinical work.
Additional Information
Uniforms will be provided at the student's expense
State of Texas Student Cosmetology License Required
Our Locations In Southwest Texas:
Is a Rewarding Career as a Nail Technician Right For You? Get More Info…
If you're interested in learning more about a career in Manicuring and exploring whether Nuvani Institute is right for you, fill out the form on this page to receive more information.
For immediate questions, call (512) 782-4939
*Program length when completed in normal time