Get the Skills to Become a Professional Hair Stylist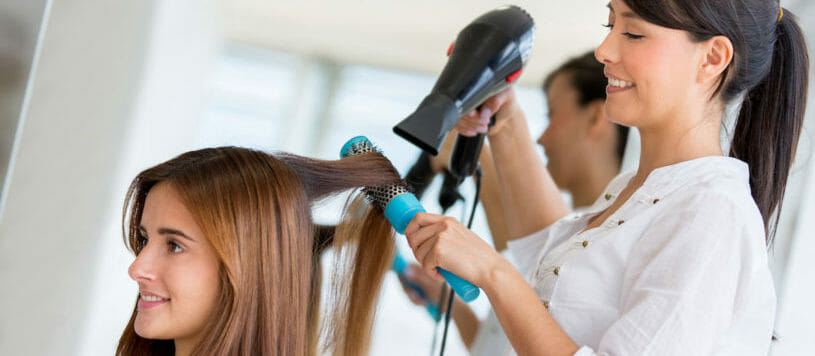 34-Week* Cosmetology Operator Training Program in Southwest Texas
Your passion to make people look beautiful can be converted into a rewarding career as a Hair Stylist. According to the U.S. Bureau of Labor Statistics, over 44 percent of all personal appearance workers are self-employed.
Nuvani Institute's Cosmetology Operator Program provides all of our students with a strong foundation in all the skills required for future specializations in the beauty industry. You will learn all the essential skills you need to get you hired at a salon, and to get your exciting new career underway.
The best way to see if Nuvani Institute is the right fit for you is to come and tour the school. You can tour our facilities and meet with students and instructors. Schedule a tour now or Get more info.
Becoming a Confident Hair Stylist
After graduating from our Cosmetology Operator Program, you are ready to take your state cosmetology licensing exam so you can become a fully-fledged cosmetologist. And from there, you're well on your way up to a bright new future in the beauty industry.
Career Opportunities:
Salons
Day Spas
Product Representative
Make-up Technician
Hair Cutting and Shaping
Facials
Salon Owner
Skin Care Specialist
Manicuring
Platform Artist
Program Objective
The objective of the Cosmetology Operator program is to provide the student with the necessary skills to perform all of the services normally associated with cosmetology, including hair styling, hair coloring, manicuring, facials, and shampooing in order to meet the requirements of the State of Texas Department of Licensing & Regulation and pass the examination, both written and practical, administered prior to issuing a license to perform cosmetology services.
| Course Number | Course Name | Clock Hours |
| --- | --- | --- |
| C0101 | Orientation and T.D.L.R. Rules and Regulations | 25 |
| C0102 | Shampoo and Related Theory | 25 |
| C0103 | Hair & Scalp Treatment and Related Theory | 50 |
| C0104 | Cold Waving and Related Theory | 100 |
| C0105 | Chemical Hair Relaxing and Related Theory | 50 |
| C0106 | Hair Coloring and Related Theory | 125 |
| C0107 | Manicuring and Related Theory | 100 |
| C0108 | Facials and Related Theory | 50 |
| C0109 | Haircutting, Styling and Related Theory | 375 |
| C0110 | Chemistry | 50 |
| C0111 | Salon Management and Practices | 50 |
| | | 1,000 Total Hrs |
Curriculum Information
At Nuvani Institute, you gain theoretical as well as practical knowledge on hair styling. You will develop an understanding about the equipment used by a hair dresser like combs, brushes, hair clippers and rollers, hair spray, dryers and much more. Training also includes steps to be followed by a hair dresser when undertaking shampoos, scalp massage and hair straightening.
A hair stylist is a confidant whose suggestions and guidance is always sought to choose an appropriate beauty treatment. When you train at Nuvani Beauty Schools and Salon, you develop an art of understanding and managing your clients better.
Program Length
Day Program: 34 Weeks*
Evening Program: 50 Weeks*
Graduation Criteria
The student must complete a total of 1,000 clock hours, must be able to complete within 150% of the published length of the Cosmetology Operator program, and have satisfactory progress in both academic, as well as, practical training. The student must maintain an average of at least 70% on both academic and clinical work.
Additional Information
Uniforms will be provided, at the student's expense
State of Texas Student Cosmetology License Required
T.C.C. General Rules and Regulations Book Required
Our Locations In Southwest Texas:
Austin
Del Rio
Eagle Pass
San Antonio
Uvalde
Is a Rewarding Career as a Hair Stylist Right For You? Get More Info…
If you're interested in learning more about a career in Hair Styling and exploring whether Nuvani Institute is right for you, fill out the form on this page to receive more information.
For immediate questions, call your nearest Nuvani Institute location today.
*Program length when completed in normal time